Sea Kelp Bioferment (also referred to as sea kelp ferment) is a powerful natural extract that's made from  (you guessed it….) fermented sea kelp. As you may already know, kelp is large seaweed that grows in massive underwater forests, known as kelp forests. Most sea kelp features flat structures that resembles typical tree leaves, with blades protruding from steps.
This powerhouse ingredient is fermented by soaking the aquatic plant matter in "good" bacteria called Lactobacillus to create Sea Kelp Bioferment. We love these helpful little critters! So many of us are obsessed with the bacteria balance in our guts, but don't realize that our skin has a microbiome as well. 
Moisturize with Sea Kelp Bioferment
By fermenting sea kelp, the fibrous leafy plant matter is broken down to make the beneficial compounds more easily accessible. Sea Kelp Bioferment takes advantage of this phenomenon to offer a highly versatile skincare compound that's perfect for all skin types. It contains high concentrations of essential vitamins, minerals, carrageenan and algin, all of which are beneficial for the skin.
Sea Kelp Bioferment has exceptional soothing and moisturizing properties. And unlike other moisturizing products, it doesn't leave your skin feeling greasy or oily afterwards. We love that it moisturizes without adding excess oil to the skin. Sea Kelp Bioferment also has anti-inflammatory properties, allowing it to reduce inflammation, making it an ideal product for people with sensitive skin, or those who suffer from rosacea or eczema. 
From Molly With Love Sea Kelp Bioferment Essence
While Sea Kelp Bioferment alone is great for your skin, you can get enhanced skincare results by choosing an essence containing this natural ingredient.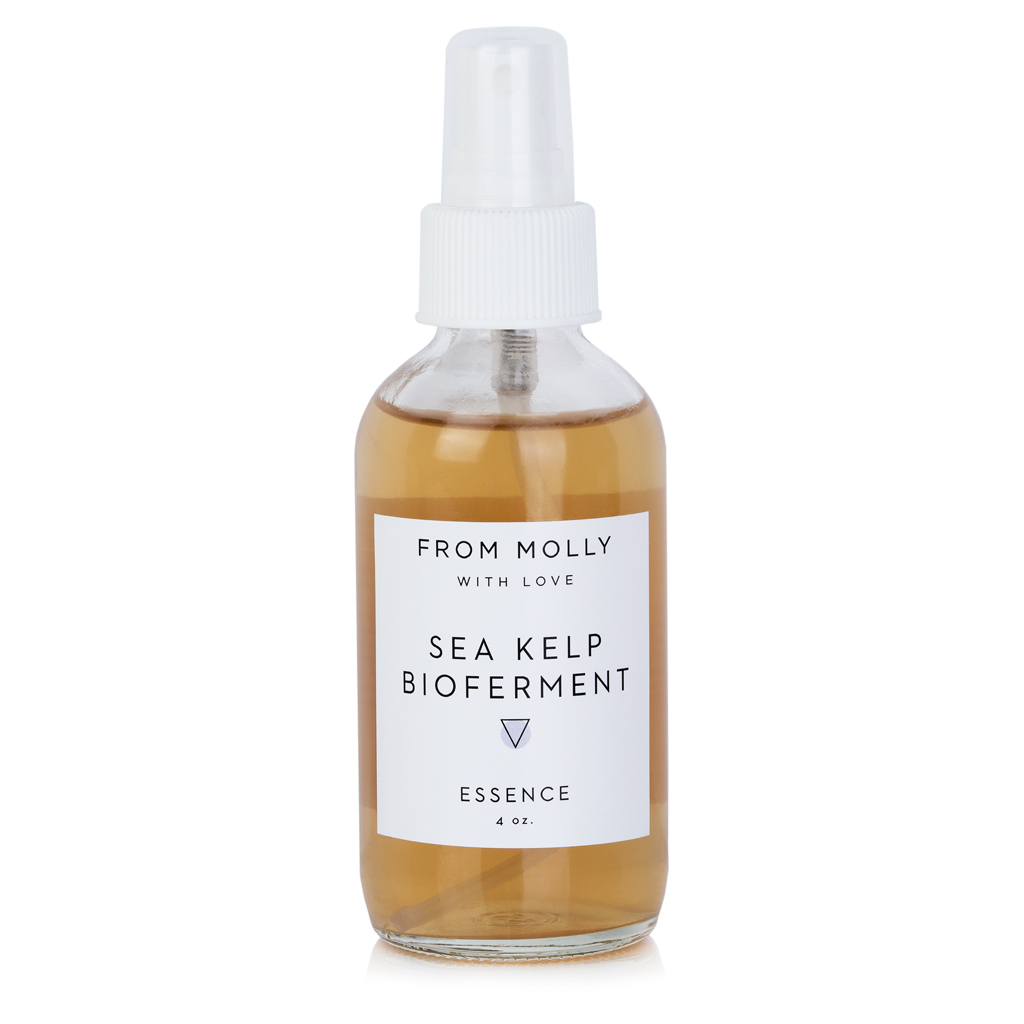 Sea Kelp Bioferment is one of the main active ingredients in a famous facial moisturizer, which retails for around $400 ($135 an ounce! We call that highway robbery). But we offer it in our From Molly With Love Sea Kelp Bioferment Essence for a fraction of the price. Our Sea Kelp Bioferment Essence also contains goodies like green tea extract, vitamin B3, vitamin E, aloe vera, rose hydrosol and more. Learn more about our essence and what it can do for your skin here. 
love, molly