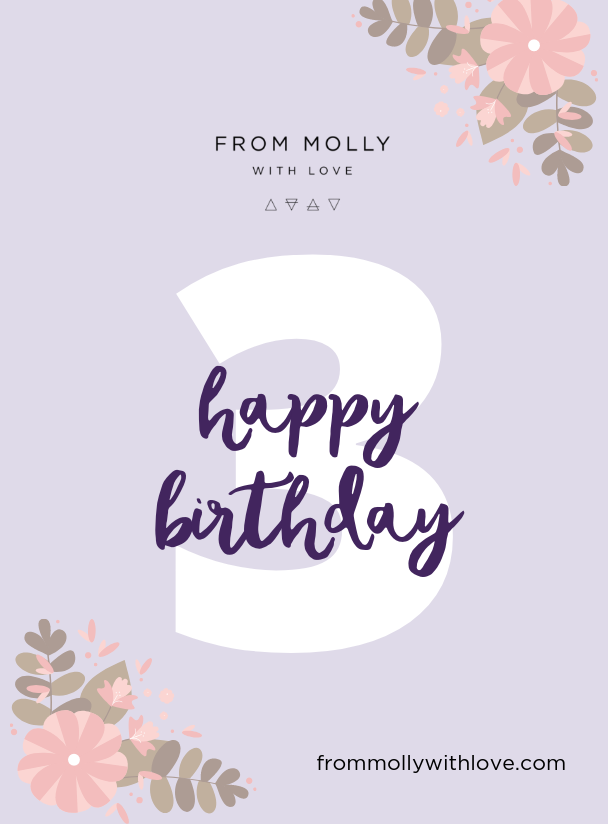 Born August 2016. She's a Leo sun and a Virgo moon/rising.
It was just yesterday but also a million years ago. 
I was fresh out of rehab from "working & playing too hard," fired from a decade long career, and had to find some way to make a living. To put food on my table. To keep a roof over my head.
I'd always wanted to have the courage to start my own business and now I was being forced into it.
the idea actually came to me in a dream
A few years earlier, I became obsessed with all things "clean" skincare and started crafting my own concoctions and reading up on ingredients and formulations. I took a trip to Seoul in 2015 that really inspired me because I was so enthralled by Korea's innovations in skincare.
Even back then, my friends encouraged me to turn my handmade concoctions into a business, but I didn't believe I could.
But in August 2016, as I was searching and grasping for what my next move was going to be, I had a dream. 
I bolted straight up out of bed. 🔼
I was going to start a business on Etsy called "From Molly With Love." The name appeared out of thin air.
I figured some people made lots of money on Etsy. 😂 If they could do it, I could too. I'd already made a full product line as a hobby. I wrote the idea down on a piece of paper in the middle of the night.
In the morning when I woke up, I took action right away.
So with no labels or branding, I took some pictures of my products on my iPhone, spent $300 on raw materials, and put From Molly With Love on Etsy.
don't let perfect get in the way of the good
Here is our first logo. I made it in Canva. Then I stuck these stickers on bottles & jars. That was my only labeling. Seriously.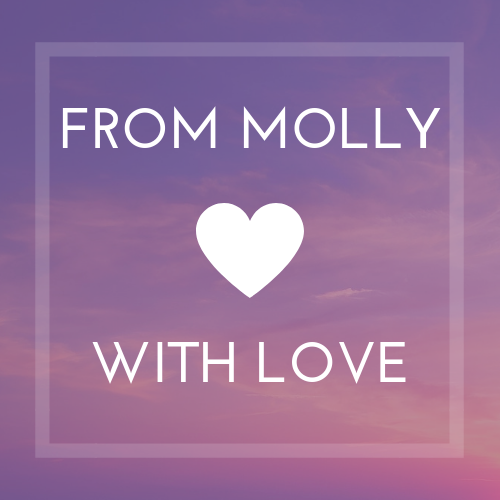 If you wait to start something until it's perfect, you will never start. I figured, I could get proof of concept, study what kind of branding people were attracted to, and school myself on proper labeling, while also making money.
In the meantime, I got certified as a Reiki master and started infusing my crystals with reiki. Then I started making Reiki-charged crystal water, which is still used today in any products that contain water. 🔮
After a month or so, I decided to "improve the logo". I hired someone on Etsy for like $15 to make the next one.
In hindsight, the first one was better in IMHO. ¯\_(ツ)_/¯ 
Oh yeah, I was also doing Tarot readings. And we sold soap! 😆
It was very "craft-fair"-y at first but I had BIG ambitions and, again, didn't want the perfect to get in the way of the good.
I was testing proof of concept.
Did people like the products?
What kind of branding drew them in at other booths?
I was iterating.
And asking myself: Could I weave a deeper message into this business? Could I disrupt beauty standards while running a beauty company? Why yes! Why not?
By the end of 2016, I knew I had proof of concept. My sales were good for what I had to work with. We even started doing pop-up events with places like West Elm and Pottery Barn.
the turning point: 2017
So now I knew we were ready to step it up. We'd garnered some real traction for as much as we had to work with.
I took a leap of faith and invested in creating a real brand, real packaging, and a true brand narrative. That was REEEEEALLY scary 😬 but necessary.
Here's the logo we still have today.
So, the logo came first. ➡️ Then the labels. ➡️ Then the website.
So we didn't even have a website until April 2017! We were still selling on Etsy and had just signed onto Amazon Handmade.
We invested in proper photography to look professional!
And as soon as we had the first few labels designed, I knew I could start selling wholesale to boutiques. (B2B)
I didn't have any money for marketing after paying for the branding & website. So I figured working with subscription boxes would be a good way to expose potential buyers to our brand and get our first batch of real customers. (B2C) And by doing it this way, I was still selling the products, putting revenue on the books.
This was our very first wholesale order – January 2017. 
Can you tell that we didn't know what we were doing? Yikes. No one told me that I was going to learn logistics and fulfillment (among other things) as a part of starting my business! 😬
2017 was the year of hustle
As I mentioned, we were pitching shops to carry our products…months before our site was even launched!
For several months we pitched 25 stores a day, 5 days a week.
I wanted to grow – to sprint – to fly. 📈
Some of our earliest stockists are Pure Poetry, Graffiti Beach/Thread & Seed, and SeaMakers & Co.
I am forever grateful 🙏 to all our stockists, but especially for the ones who took a chance on us in those early days. In fact, we've done many pop-ups and workshops at Graffiti Beach and Thread & Seed. We did one with SeaMakers, too!
Here's a picture of our first pop-up at Graffiti Beach. My friend Trish was kind enough to volunteer her time to help me that night.
More and more stockists started carrying us. When our site launched, we were actually getting orders!
This is a picture of me and my bestie (who lives across the country from me 😢) at SeaMakers, admiring the fact that my little upstart was on the shelves of retailers.
That year we also got certified cruelty free by PETA.
My favorite memories of 2017 as it relates to From Molly With Love were:
Packing a giant palette and loading into a gigantic truck in the parking lot of an apartment complex
Sweating my ass off with my mother (who is a HUGE part of the business behind the scenes) in the desert for four days
Aside from an early 4,000 unit order we had from a subscription box in March 2017, that holiday season was the first time I was legitimately overwhelmed by orders.
Right before & through the holidays, we also started selling in large volumes to a clean beauty chain in Hong Kong, called A Piece of Organic.
I hired a critical member of our team, and a natural-born leader, Amber Bustamante; and had many friends volunteering to help us get through it. 😵
This was such an exciting time and it dawned on me: we could make it big. We ended 2017 with over six figures in revenue with no funding/capital.
that's when the growing pains began: 2018
Ahhh…growing pains. Every company experiences them. In the moment, they feel catastrophic, but in hindsight, I'm thankful for them because we learned so much and were able to improve as a result. 
In many ways, 2018 was one of the hardest years of my life – and I was working a zillion hours a week.
But I learned so much. I made some mistakes. BIG ones. I left my comfort zone for almost the entire year. And I, well, grew.
Given the unexpected influx of orders, 2018 started out with us:
Backlogged on orders
Switching to a new fulfillment center while also being backlogged on orders
Prepping for our first tradeshow in January
Dealing with some personnel issues
…And I was going through a wicked Fibromyalgia flare
Suddenly we had to have someone helping with customer service. 📞
And some customers were rightfully mad about our shipping delays.
That caused me great distress because I love them so much. I want to delight them. And we were not delighting people. (Thankfully, our shipping & customer service have improved by leaps and bounds as a result). 📦
We got through it.
We hired a few people, but one was Julia Levine, who could probably run this business with her hands tied behind her back. #grateful
***
Here is a picture of me and Amber at Indie Beauty Expo in Los Angeles in January 2018.
We had the least fancy booth at the trade show. I was SO worried about looking amateur and SO nervous in general.
But that didn't matter to some folks. We got buyers. One that became our first major, national retail chain! 😮
Francesca's became our first BIG stockist.
I squealed when we got the deal. MY products were good enough to be on the shelves of a major retailer. Holy shit. 💩
We have since signed with other national retailers and are in testing with several more, but you know what they say:
"You can never forget your first one." Heh heh heh…
I won't lie. Manufacturing and fulfilling this order was a beast. 👹 We learned a lot in the process and sometimes worked 20-hour days to meet the quick turn-around.
Here's a pic of us taking a break from a grueling day during Francesca's production.
But of course, it was all worth it. Here are our products on the store shelves at malls all across the country… Like, my shit is legit selling in the mall, ya'll! Whaaa? 🤩
This deal and some other mistakes put us in a cash flow bind. That's something that they don't tell you when you start. When you work with a large retailer, you have to fund manufacturing, labor, and fulfillment and then wait sometimes up to 120 days to get paid.
I had anxiety attacks over cash flow frequently. I had to learn how to develop an iron stomach. I kept putting one foot in front of the other.
And we got through it. 
In June, I shaved my head because I don't owe my hair or my "prettiness" to anyone. Fuck the patriarchy, etc.
Then, in Aug 2018, I broke my head.
You can read more about here if you want, but TL;DR: I fell down some steps, fractured my skull, bruised my frontal lobe, bloodied my brain and was knocked unconscious. I survived a Traumatic Brain Injury (TBI) and spent four days in the ICU.
The business could have gone under at that point, but Julia and Amber took the reigns for a little while while I focused on healing. I cannot express my gratitude enough for them. They kept us alive.
In September, we were on Good Morning America and sold $50K in one day! Good news! …But it created another backlog. Bad news!
In November, I flew to Seattle to participate in a national commercial about Amazon handmade. They picked just a handful of their best artisan sellers, and I was one of them!  😍
Despite my brain injury, we increased our revenue by nearly 5x in 2018.
today
I am starting to see progress in my healing from the TBI, so we are full steam ahead…
In June of 2019, we were awarded one of the top small businesses in California's 78th Assembly District! I love my boy Todd Gloria!  
And last month, a company paid me actual money to give a speech! 🗣️
We're looking for investors (as always). Working on expanding our eCommerce business. Looking into moving to a bigger warehouse/office space. Getting ready to hire more. It's an exciting and chaotic time, but I am having a blast.
gratitude
I f'ing 💜 you so much.
Seriously. Because of you, I can put food on my family's table. I can create well-paying jobs. I can do what I love. And I can spread an empowering message about beauty standards, self-love, and self-care.
Most of all, I thank my mom Linda Kuhr, my husband Jordan Beane, and #teamFMWL, Amber & Julia. Here's to many more years. 🚀
love, molly