Description
"It's like K Beauty + Crème de la Mer had a baby"
Yep. That baby's name is Sea Kelp Bioferment Essence.
I went to Seoul in 2015 and felt like a kid in a candy store. Korean Beauty (or K-Beauty) was just making its way west when I got the opportunity to spend time in the epicenter of the most innovative skincare in the world. 🤩
I learned that 'essence' is the foundation of the K-Beauty routine. I'd never heard of it but learned it was usually a cross between a toner and serum – like a liquid serum. This helps prep your skin to better absorb the products you use after it. And it has a whole host of other benefits…
I wrote a thing about essences so you can learn more about what they are and why they're awesome. Now they're a key part of my skincare regimen.
I knew I wanted to add an essence to the FMWL line as an homage to K-Beauty. While doing ingredient research, I learned about some of the active naturals used in very expensive, cult skincare products. So I used the $400 Crème de la Mer as my inspiration when formulating the essence.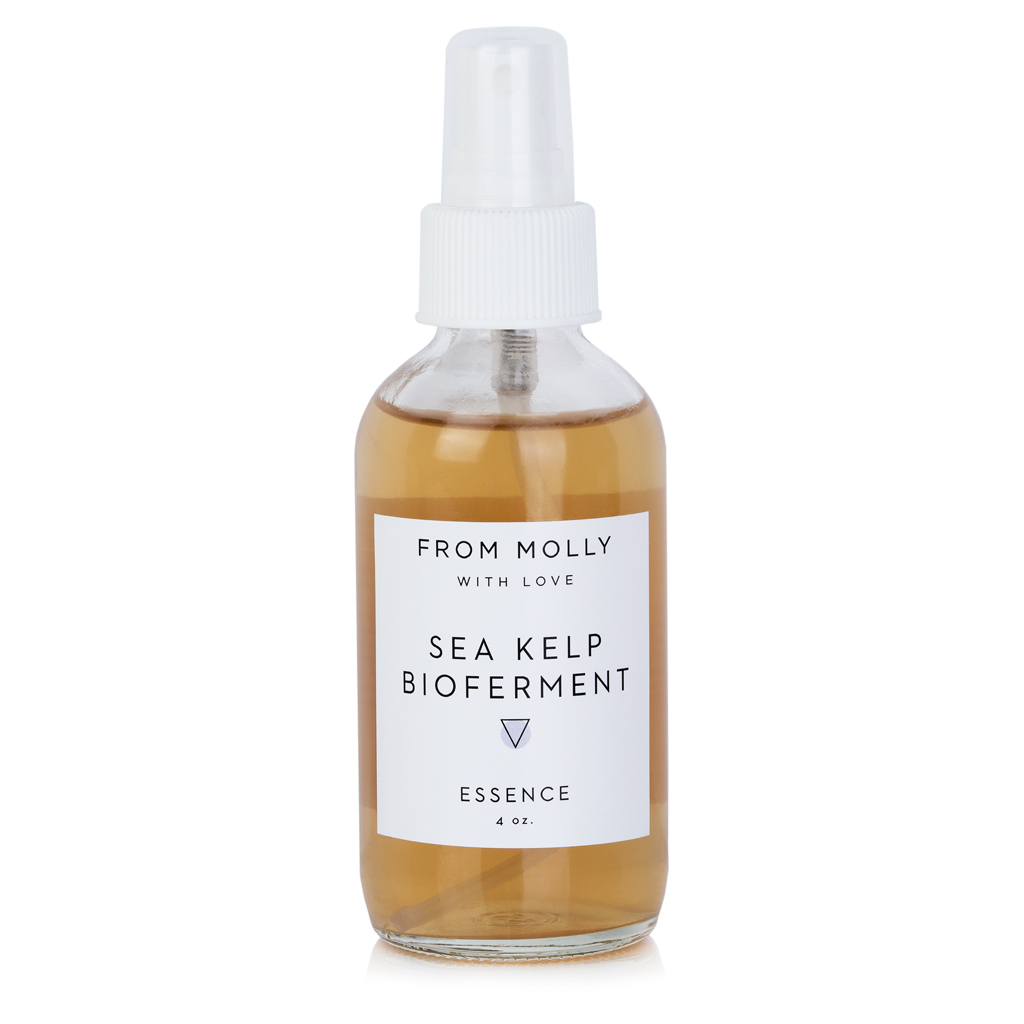 The coveted skincare powerhouse, Sea Kelp Bioferment, a nutritive active that contains a high concentration of vitamins, minerals, carrageenan and algin; Niacinimide (vitamin B3) which stimulates collagen synthesis and production of ceramide, a lipid compound that contributes to the functional and structural integrity of the skin barrier – making the skin more resistant to irritants. Green Tea Extract, an anti-inflammatory loaded with antioxidants; Aloe Vera to soothe; and more. The vision for this product was to be like the sea, based on the element of water, inspired by the ocean near our studio in San Diego, California. 🌊
I am very proud of this product. And it seems that many others love it too. Influencer Beauty by Buffy named it as one of her favorites. She says:
"The moment I picked up this product I was instantly intrigued with it.The Sea Kelp Bioferment Essence is a mix of a mist and a hydrating liquid serum in one. It has an interesting deep brown ocean like color, which resembles it's main ingredient 'sea kelp'! The From Molly With Love Sea Kelp Bioferment Essence takes the effectiveness of Korean beauty and the luxury of high-end brands like La Mer for instance but applies it's own green beauty principals within each and every product. The ingredients include the nutritive active Sea Kelp Bioferment, it is an effective and powerful ingredient that penetrates the skin with a high concentration of vitamins and minerals without harmful additives."
Directions: Spray on a cotton pad and apply to clean face before moisturizing. You can also choose to pat it into your skin – and you can even add a spritz to your moisturizer to give it superpowers. Use both morning and night.
Ingredients: Rosa Damascena (Rose Hydrosol), Ionized, pH-Balanced Quartz-Infused Water, Aloe Barbadensis Leaf (Aloe Vera) Gel, Lactobacillus/Nereocystis Luetkeana Ferment Filtrate (Sea Kelp Bioferment), Glycerin, Camellia Sinensis (Green Tea) Leaf Extract, Niacinamide (Vitamin B3), Tocopheryl Acetate (Vitamin E).